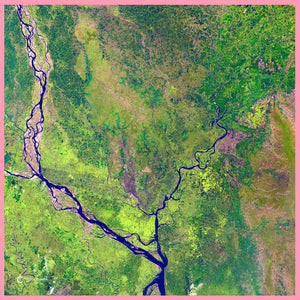 Dhaka Mini Scarf
Size: 17" x 17"
Color: Hues of green and pink with the Ganges River in blue.
Material: 100% silk with hand rolled edges
Description: Digital print of the aerial view of Dhaka. Comes with a mini guide to the city.
Wear the Dhaka mini scarf as a neckerchief or pocket square and keep Dhaka close to your heart. 
Inspiration:
Lalbag Fort
Ahsan Manzil
 Dhaka