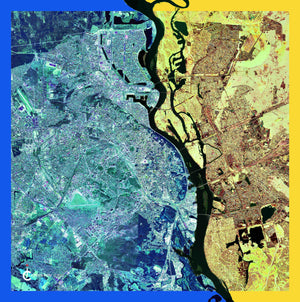 Kyiv Mini Scarf
Size: 17"x 17"
Color: Blue and Yellow
Material: 100% silk scarf with hand rolled edges
Description: Digital print of the aerial view of Kyiv, Feb. 2022
This scarf was created in support of and in memory of the civilians in Ukraine and against WAR. 
We are dedicating 100% of the proceeds from the sale of this scarf to UNHCR in their efforts to assist the refugees. 
Make a fashionable statement by wrapping yourself in this beautiful land and showing solidarity against wars.
The colors were inspired by the Ukrainian flag, the Ukrainian national symbol, Sunflower, which is a major agricultural export along with wheat, and the blue sky.

Inspiration:
People of Ukraine
kyiv Pechersk Lavra
Wheat fields
Sunflower
Ukrainian Flag
Ukrainian Easter Egg
Ukrainian Dill Potatoes 
Lyadsky gate, Archangel Michael statue, Kyiv's symbol of Independence
Saint Michael's Monastery