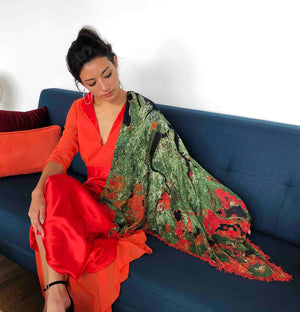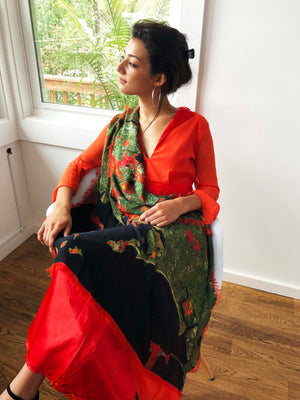 Boston Square Scarf
Size: 42" x 42"
Color: Black, green and red accents
Material: 90% modal/10% cashmere with eyelash fringes 
Description: Digital print of the aerial view of Boston
Wear Boston and be a part of the city of champions and the cradle of liberty. 
Boston is steeped in history, but also enveloped in nature. Whether it is catching a Red Sox game at Fenway, having a picnic on Castle Island, peeking at wildlife at Belle Isle Reservation, treading the decks of Old Ironsides, or getting swept away by great music inside The Orpheum concert hall, there is much to do and experience in Boston.
Inspiration: 
Boston Harbor
Boston Common and Public Garden
Isabella Stewart Gardner Museum
Fenway Park
Harvard
Institute of Contemporary Art
Lobster rolls