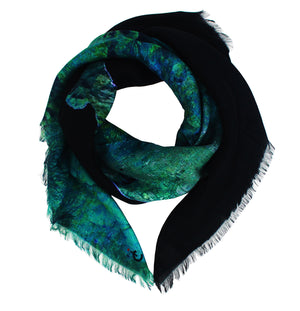 Cape Town Square Scarf
Size: 42" x 42"
Color: Hues of green and blue landscape and black ocean 
Material: Modal/cashmere blend
Description: Digital print of the aerial view of Cape Town
Inspiration:
Bantry Bay
Cape Town
Broad
Boulders Beach
20% of proceeds from the sale of this scarf is allocated towards Generation Ubuntu a non profit organization in Cape Town that supports children with aids. 
Ubuntu is a humanistic philosophy that refers to the interconnectedness of all human beings and sharing what you can do to help others. " I am because we are" is a phrase commonly associated with this philosophy.