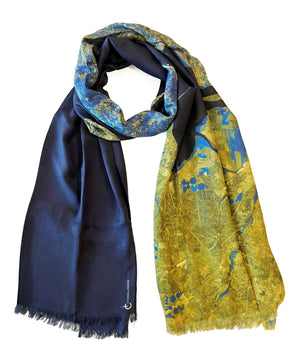 Lisbon Rectangular Scarf
Size: 26" x 80"
Color: Navy and tones of ochre
Material: Modal/cashmere blend with eyelash fringes
Description: Digital print of the aerial view of Lisbon
Known for being one of Europe's most laid-back and sunniest capitals, Lisbon has become a trendy city break destination. Built on seven hills, it's an incredibly scenic and romantic city, and has an unrivalled position by the sea. It became the Portuguese capital in 1385 and it's most iconic landmarks include the Belém Tower and the Jerónimos Monastery, both World Heritage Sites and prime examples of Manueline architecture (a Portuguese late Gothic style). One of Lisbon's most striking features is its use of decorative tiles ("azulejos") that adorn entire façades. Those may be geometric patterns, solid colors or monumental murals. 
The colors of this scarf is inspired by the decorative tiles this city is so well known for.
Wear this scarf and be transported to the magic of Lisbon.
Inspiration: 
Praça do Comércio
Belem's Tower
Azulejos-Tiled Building
Bacalhau (codfish)
Portuguese Tiles