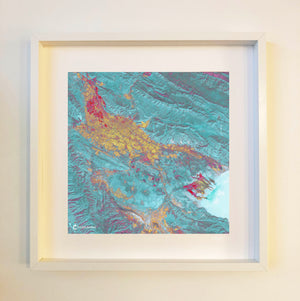 Shiraz Scarf Framed
Size: 20" x 20"
Color: Shades of blue landscape with the city in yellow, red and pink
Material: 100% silk framed in matte white fiberboard with polystyrene front protection.
Description: Due to popular demand for Cityzen scarves as art pieces, we are now offering them in a 20" x 20" modern white frame that will beautify any room while showcasing the beauty of the world and the commonalities we share. Digital print of the aerial view of Shiraz. 
Inspiration:
Eram Gardens
Shahram's "Flight"
Vakil Bazaar
Nasir Al Molk Mosque
This scarf was created in support of Omid Foundation which strengthens the social, emotional and economic opportunities of disadvantaged young women in Iran. 20% of the proceeds from the sale of this scarf is allocated towards Omid Foundation.