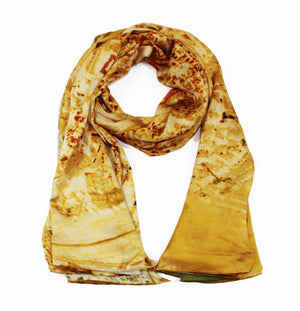 Jerusalem Rectangular Scarf
Size: 42" x 72"
Color: Golden brown 
Material: 100% satin silk with hand rolled edges
Description: Digital print of the aerial view of Jerusalem
Our Cityzen: Lara Vosburgh, our Cityzen model and ambassador. She is an Israeli actress, writer and an anti racist peace advocate with a heart of gold. Our hope is by looking at this beautiful land from this perspective, we can bridge our differences and work towards building lasting peace.
We are dedicating 20% of proceeds from the sale of this scarf to Jewish Voices For Peace.
Inspiration:
Jerusalem
The Western Wall- The most important religious shrine for the Jewish people.
Walk down the Mamilla Alrov Avenue, which is a pedestrian mall that offers a selection of luxury shops, as well as upscale restaurants and cafes.
King David Hotel Jerusalem- The 5-star King David offers luxury décor, panoramic  views and an outdoor pool.
Mahane Yehuda Market, a fascinating spectacle for the first-time visitor and a bargain emporium for city residents.