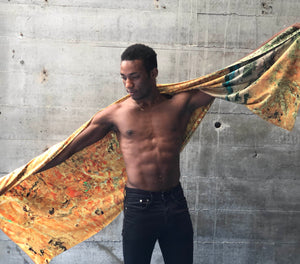 Khartoum Rectangular Scarf
Size: 30" x 80"
Color: Natural colors of exiting landscape accentuated; rust and terracotta desert with blue Nile and earthtones of the city.
Material: Modal/Cashmere blend 
Description: Digital print of the aerial view of Khartoum, sudan.
Inspiration: 
This scarf is dedicated to the young architecture student, Alaa Salah (22) considered to be the "Nubian Queen", singing protester who stood up against Bashir and whose video went viral. 
This scarf was inspired by the recent months of protests in Khartoum which started by complaints about the cost of living and food and quickly morphed into demands for the resignation of President Omar Hassan al-Bashir who has been in power since 1989 until summer of 2019.  
Women have been at the forefront of the protests in Sudan. Their lives have changed fundamentally in recent decades as they've faced restrictive laws that dictate what they can wear and where they can go.  
The singing protester and icon, Alaa Salah
More pyramids than in Egypt
Khartoum Grand Mosque
Blue and White Nilel
The Meroe Island, Sudan
University of Khartoum