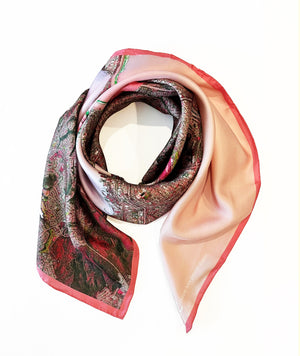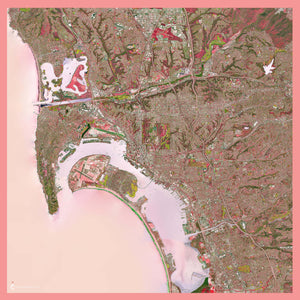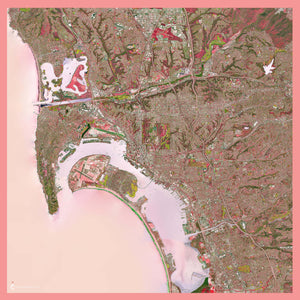 San Diego Square Scarf
Size: 42" x 42"
Color: pink, peach, multi color
Material: 100% silk, handroll edges
Description: Digital print of the aerial view of San Diego
Of all the major Cali cities, San Diego best embodies laid-back California. Its surf culture, beckoning beaches, and postcard-perfect weather are enchanting. But don't be fooled: San Diego is a major metropolis in its own right. Its serious food scene prides itself on a blend of Michelin nods and cheap eats—no trip is complete without a fresh fish taco in La Jolla. And it's pure paradise for families, outdoor enthusiasts, and party people who love to bar-hop the thumping Gaslamp Quarter.
Wear this silk scarf and be transported to this fabulous city.
Inspiration: 
Balboa Park
San Diego Skyline
Coronado Bridge
Hotel Del Coronado

San Diego Beaches
Gaslamp Quarter