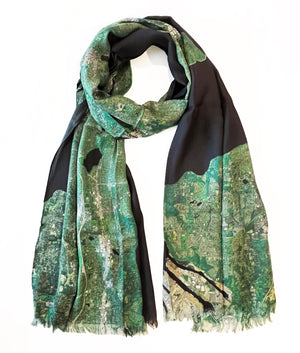 Seattle Rectangular Scarf
Size: 26" x 80"
Color: green and black
Material: 90% modal/10% cashmere with eyelash fringe ends and hand rolled side edges
Description: Digital print of the aerial view of Seattle
Seattle is called the Emerald City because the city and surrounding areas are filled with greenery all year round. The city is known for its coffee, music and pleasant weather. Seattle is also not only known for its breathtaking natural views but is also a tech hub with some of the biggest companies including Amazon and Microsoft. Also known for its prominent coffee culture and home to Starbucks, this place is a paradise for coffee lovers. 
Wear the Seattle Scarf and wrap yourself in the spirit of this city.
Inspiration:
Seattle Skyline and Space Needle
Volunteer Park
The Great Wheel

Pike Place Market
Seattle Central Library
Starbucks Coffee