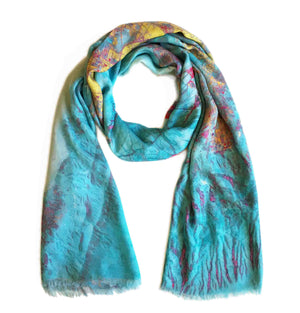 Shiraz Rectangular Scarf
Size: 30" x 80"
Color: Turquoise, pink, yellow and red
Material: Modal/cashmere blend with eyelash fringes
Description: Digital print of the aerial view of Shiraz.  Comes with a mini guide to the city.
Inspiration:
Eram Gardens
Shahram's "Flight"
Vakil Bazaar
Nasir Al Molk Mosque
This scarf was created in support of Omid Foundation which strengthens the social, emotional and economic opportunities of disadvantaged young women in Iran. 20% of the proceeds from the sale of this scarf is allocated towards Omid Foundation.
The inspiration for the colors of this scarf are from a painting by the renowned Shirazi artist, Shahram Karimi, entitled,"Flight".