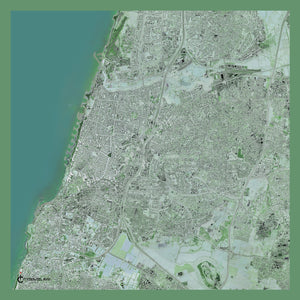 Tel-Aviv Mini Scarf
Size: 17" x 17"
Color: Hues of teal and green
Material: 100% Silk
Description: Digital print of the aerial view of Tel-Aviv. 
With the Tel-Aviv scarf, one can immerse themselves in the sights, smells, and urban feeling that characterizes the artistic center that Tel-Aviv is today.
Use this as a pocket square for men or neck scarf or wrist scarf for women.
Inspiration:
Tel-Aviv coast line
Tel-Aviv Museum of Art
Bauhaus inspired architecture
Jaffa Port
Shakshuka